About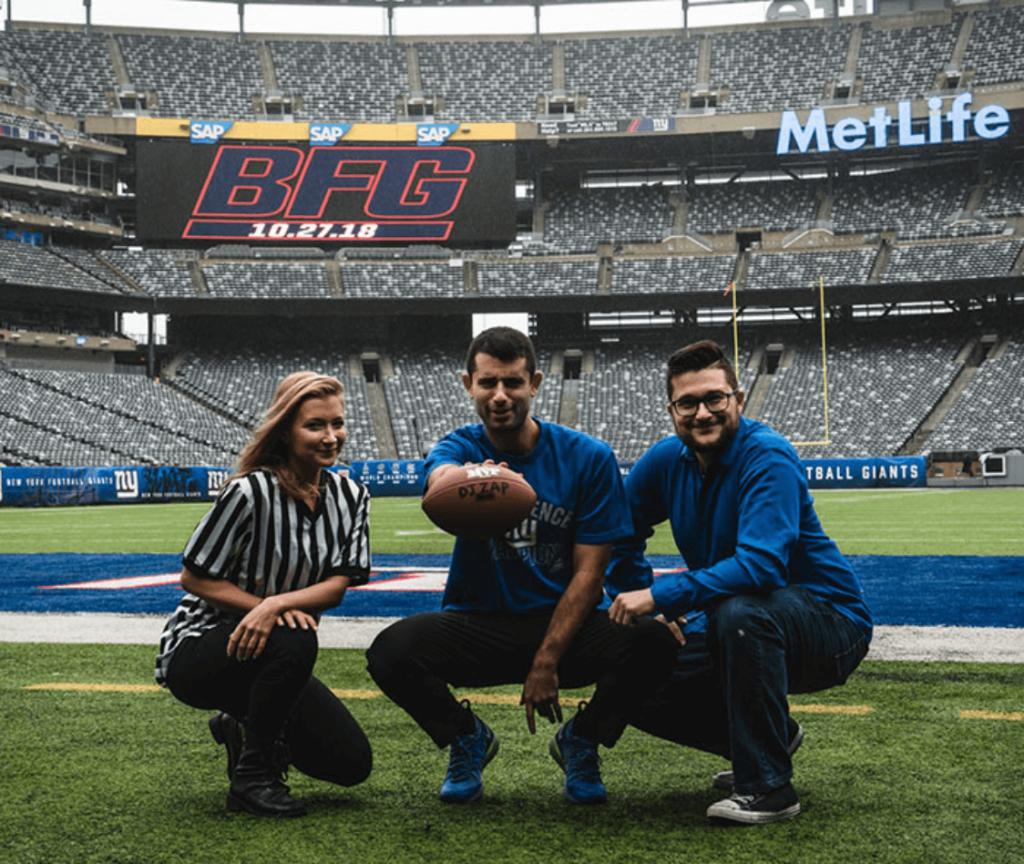 Jason Zaplin Productions creates events that are a transformative entertainment experience.
Jason is passionate and enthusiastic about his company and the joy it brings to event-holders all over the NYC metro area. He works tirelessly to deliver a best-in-class event to his clients. He recruits the DJs, MCs, and dancers himself, hand-picked professionals who he is confident will be the best DJ team North Jersey can possibly hire.
DJ Zap is such an energetic, dynamic DJ that constantly had the kids dancing and participating in dance floor competitions. He listened and understood the clients music style and the overall atmosphere they wanted to create for their guests. Perfect selection for any Bar/Bat Mitzvah. You will not be disappointed!
Jason did a great job with my son's Bar mitzvah. He visited us a couple of weeks before the party to meet my son, and to develop a play list, and to talk about what kind of games the kids would want to play. This meeting alone made my son feel very special and got him really excited. At the party Jason kept the kids happy and busy with music they love, games, line dances, and fun handouts. Jason also heeded my wishes to play some "adult" music, and indeed the adults got up to dance as well. Jason is a DJ and party prompter (and great dancer) all rolled into one! Moreover, he was professional and courteous and easy to work with. I highly recommend him.
Our daughter's bat mitzvah was last weekend. It was a total blast in large part because of DJ Zap and his crew. The energy was incredible and just about everyone danced – including my 82 year old mother! Jason is highly professional and both Jules and Chris were able to read the room to keep every group – from adults, young adults, and teens – happy. Thank you DJ Zap!!!
DJ ZAP! WOW! What a great guy, DJ, Team and Awesome experience!  My experience with DJ Zap started when my wife and I decided to have our wedding in less than 3 months.  I found DJ Zap via google and from the first call it was an excellent experience.  DJ Zap (Jason) was on every detail, knew my venue, the Crystal Plaza , and made the task of taking care of the DJ effortless.  Jason's attention to detail and follow-up was great and everything on the wedding day was exactly as we had wanted it.  During the wedding Jason also brought an amazing and tremendous energy as DJ/MC.  He got everyone out to dance right from the very first song.  The final detail, was Jason was also super competitively priced.
We had an awesome celebration last weekend at Russell's Bar Mitzvah thanks to DJ Zap and his team! Everyone was on the dance floor, having a great time thanks to your great music, dancing, and energy! Both adults and kids had a blast dancing the afternoon away.
You were a great MC and played lots of fun games with the kids that kept their attention and energy going all afternoon!
Throughout the planning process before the party, Jason was so enthusiastic, receptive to all our ideas and flexible with any requests.
On behalf of Russell and our family, thank you for making our celebration so much fun and memorable.
We will definitely recommend you to our friends in the future!
You were out of this world for our daughter's bat mitzvah. We cannot tell you the number of compliments that we received on your behalf. You and your DJ were in completely in sync (we joked that it was telepathically). Your motivators were approachable, energetic and had everyone moving and having fun.
We have never seen so many boys dancing for such a long period of time.
We are grateful for you and your team for making this day a magical one. You should be very proud and we will be recommending you to all of our friends in the area.
My daughter Marissa's Bat Mitzvah was this past weekend at the Hanover Manor in East Hanover and the party was Amazing! DJ Zap and his crew were Outstanding and were essential in making this celebration a fantastic one! We have received tons of compliments the day of and even calls afterwards on how wonderful DJ Zap and his crew were! Julz the DJ played a perfect selection of music that kept adults and kids dancing throughout the entire party! Max and Jason motivated the kids on the dance floor while teaching them new moves!! Jason kept the kids entertained with really fun games that even some adults joined in! Jason also provided us with a photo booth from Autumn Falls Production that Nick oversaw. Nick was great in assisting my party guests with props to make their experience a fun one! This was a fabulous photo booth that gave you the option of color or black pictures and also provided my logo on the bottom carrying on the theme of the party. Thank you Jason and your crew for making Marissa's special day a memorable one, I would highly recommend your services!
DJ Zapp was fantastic at Gabbie's Bat Mitzvah! Btw, we used Jason for our older daughter's bat mitzvah and we were more than eager to secure him for Gabbie's. He was great with both the kids and the adults. He goes above and beyond to make the day extra special. I would highly recommend him for your DJ needs. We are looking forward to seeing him at our son's BM in two years :). Book him early.
Jason Zaplin was a wonderful DJ at our daughter's bat mitzvah. The kids loved him because he was so personable, chose great music, and got right out on the dance floor and boogied with them. Whenever I asked him to turn the music down for us oldsters, he complied willingly.
Jason always responded to my e-mails and requests right away. The last few days, I sent a flurry of e-mails because I was rethinking some musical ideas, but he responded immediately and complied with good cheer and utmost cooperation.
We first met Jason at a Chanukah dance at our synagogue several years ago. My daughter took an immediate liking to him and remembered him and requested him six years later for her bat mitzvah. We highly recommend him and would use him again in a flash for a party. Book him!